The Dynafit Feline Up Pro
For the last couple of years, I've been a big fan of Dynafit's Feline SL trail running shoe. Thanks to a precise fit for my narrow to medium width feet, it's been my primary shoe for technical trails with loads of up. But this year, Dynafit came up with the Dynafit Feline UP Pro – a much more precise, performance oriented design with less drop and less weight – 65 grams less.
The good news for our team here at ALPSinsight is that we got our feet in some early release models. The bad news is that you'll have to wait until spring 2019 when they officially launch. But back to good news… they are something to be excited about.
Kim and I have both been using these for a variety of trail running, from big, steep ups, to more normal, cruiser trail running. And while Dynafit hypes the up performance, I feel they are underselling what else the shoe can do. What goes up also has to come down, and it's on the descents that we also really love the Up Pro. While Dynafit can't call the shoe the Down Pro, it's going down where they also shine, because unlike the relatively harder nature of the Feline SL, the UP Pro is cushy and more precise. And like always, Vibram's sticky Megagrip sole provides a confident boost for rocky or rooted descents while the minimal weight and 4mm drop let you bounce quickly through technical terrain.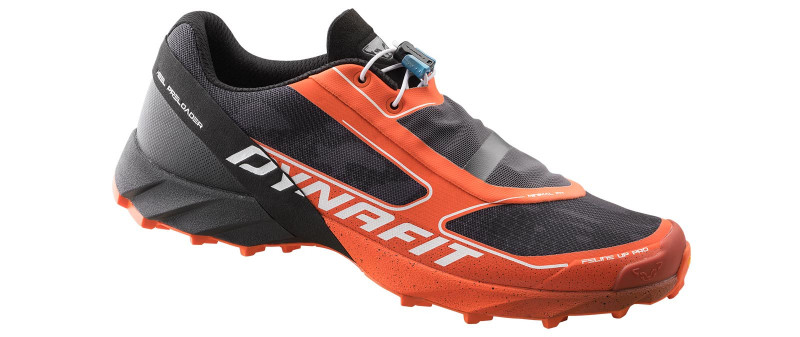 What we love about the Feline Up Pro
Precise fit thanks to a stretchy upper that form fits narrow to medium width feet. I wear mine a bit tighter and let the material hold my foot in place for the ups, while stretching a bit for the down. Fit is key, compare sizes to be sure you get it right.
Just 230 grams. Dynafit says the overall weight was primarily saved thanks to Vibram's lighter sole material combined with a super simple mesh upper.
While light, and minimalist, with just 4mm of drop – they have just enough cush for pounding down.
The speed lacing system works! While the Feline SL had a keeper pouch, it often stretched out and the laces hung free. Not so on the Feline Up Pro, the pouch is much more fitted, covers the whole upper, and is easier to get the laces in and out of.
What we don't love about the Feline Up Pro
That we can't tell you they are available right now.
In summary, we leave you with one fact… Kim, a huge fan of Salomon's S/Lab shoes, just may have a new favorite – the Dynafit Up Pro. The reason; for the same weight, she gets more cushion with the same amount of precision. And the fit is better thanks to the stretchy mesh upper.
Dynafit has hit a grand slam with the Feline Up Pro. And no, we are not paid to say so!
By Dan Patitucci